Description
Since LRS is located in North Carolina we have access to fresh ingredients other food makers can only dream about. Our newest Fish Egg product is an example of why our reputation for freshness and quality is unmatched in the industry. During the months of March and April we are processing truckloads of fresh fish each week to extract the egg sacs and vacuum seal them before rapidly freezing them to preserve freshness.
The lab tests for these eggs revealed 23% protein which is 6X higher than other frozen fish eggs offered in the hobby. Unlike the other LRS "blended" foods the eggs are packaged and sold in their natural egg sac. This requires a DIY approach when it comes to feeding but the natural egg sac helps preserve the freshness of the eggs inside the freezer bag. The end user slices off a piece of the frozen egg sac, thaws in water and then feeds the aquarium. This is a little more work but ensures that all the natural juices and feeding stimulants are not washed away from excessive processing. We believe the results will be worth the extra preparation since initial feeding trials with the eggs have been amazing.​
The DHA and EPA levels are outstanding for these eggs and far above anything else available to the hobbyist. These beneficial fats can boost the metabolism of broodstock to increase spawns and fertility.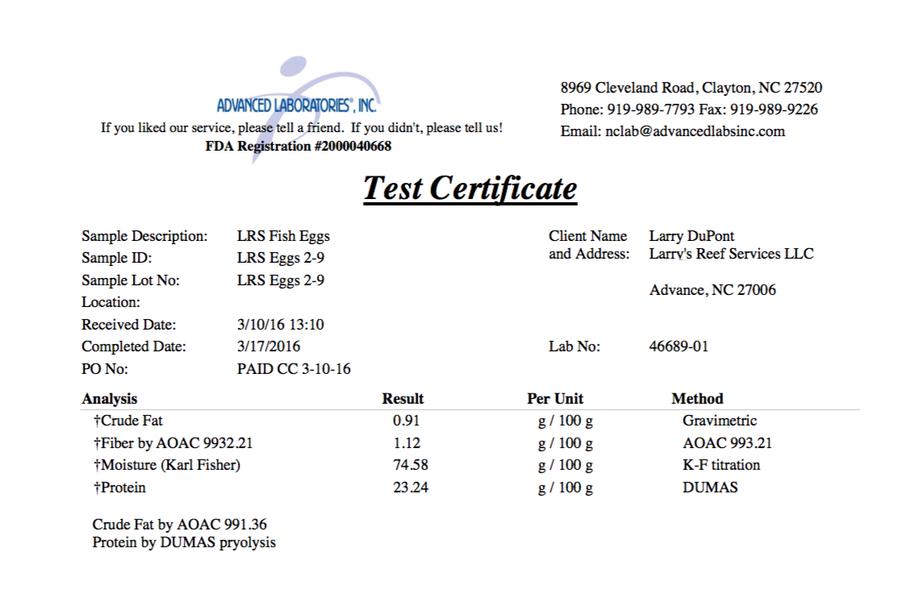 We've been experimenting with these eggs for TWO YEARS and adding them to our Fish Frenzy® blend for over a year.
We finally secured enough eggs to offer them as a standalone product!
LRS IS 100% TRANSPARENT ABOUT OUR INGREDIENTS AND TEST RESULTS.There is not another fish egg product available in the hobby that comes close to the protein and fat content of our fresh eggs. Only LRS posts the test results on our website so customers can be informed about what they are getting.